Posted by Shaun Tolson via Robb Report on 1st Aug 2011
The turn of the 20th century introduced monumental changes to the civilized world. From all corners of the earth, intrepid engineers and daring aviators were taking to the skies in various aircraft; Henry Ford unveiled his Model A, the first iteration in a series of production automobiles; and the United States had just broken ground on what would become an 11-year canal project to connect the Atlantic and Pacific oceans through Central America.
In that period of discovery, as excitement swirled for a faster-moving world brimming with new possibilities, the pleasure derived from a relaxing smoke of a hand-rolled cigar was reassuring—an indulgence rooted in the familiar. Cigars were not a rarity, but rather a societal mainstay. By 1905, approximately 80,000 cigar-making shops were conducting business in the United States, and most of them—small, family-owned companies—were rolling cigars to be sold immediately. Most smokers easily could acquire the cigars they wanted at the time they wanted to smoke them, which made elaborate means of storage unnecessary. A century later, the needs of a cigar smoker have changed dramatically.
"If you look back to cigar smoking over the years, generally speaking, there weren't that many options for what to smoke," says Michael Herklots, executive director of retail and brand development at Nat Sherman. "And the culture of enjoying it was pretty easy to do because you could do it anywhere." With smoking bans plaguing most major metropolitan areas around the country by the beginning of the new millennium, the list of acceptable smoking locales has dwindled, but the number of cigar styles and options has increased, making larger humidors a greater necessity. "Before, you'd keep 15 cigars in a humidor, but now the culture has shifted to needing to hold more volume to satisfy whatever mood you're in when you feel like firing up," Herklots continues. "As more and more products and releases are making it to market, people are doing smaller productions in limited availability. Cigars have fallen into a culture where the connoisseurship has taken over, so it's on the consumer to buy them and store them, and that's where the culture of the humidor has changed."
More than that, the collector mentality that has influenced the cigar industry over the past two decades has spilled over to humidors. As in so many industries, there are plenty of manufacturers making mass-produced, serviceable devices for cigar storage; but there's a much smaller group of artisans and craftsmen that are producing exceptional humidors, both in functionality and in design. And Herklots says that many cigar connoisseurs will collect the humidors as feverishly as the cigars, themselves. "You can see the journey that the hobby has taken him on," Herklots says of this type of collector, referencing the number of humidors acquired. "I'm one of the guys you can take that journey with. I've [still] got the first humidor I ever owned—a Diamond Crown that was a gift from my first boss in the business. No cigar guy will ever get rid of a humidor."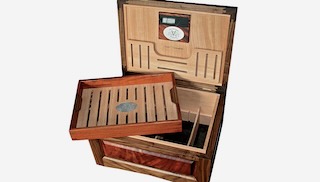 Building Character
Eddie Vanderburgh's foray into handcrafted humidors came not from a lifetime of cigar smoking, but from the simple acquisition of one box of hand-rolled Cuban cigars eight years ago. Being the type of cigar smoker who might have one or two every few weeks, Vanderburgh knew once he was given that box of cigars that he needed a high-quality humidor in which to store them. There was only one problem: he couldn't find a manufacturer that made the type of humidor he envisioned. Fortunately, Vanderburgh was working as an industrial designer and, knowing a handful of craftsmen that he trusted, he simply commissioned them to build him one. That was the unofficial beginning of Vanderburgh Humidors (www.vanderburghhumidors.com), a home-based, humidor-manufacturing business in southern Ontario, Canada.
Since founding the company about eight years ago, Vanderburgh has put emphasis on quality over quantity and, with the help of a few woodworkers, builds made-to-order humidors that incorporate accents from other local artists and are made from exotic pieces of wood—materials that Vanderburgh describes as noble. "We focus on unique character—pieces of wood with stories," he says, adding that because his company operates on a made-to-order basis, it can easily adapt to exciting, project-altering discoveries made once the manufacturing process is underway. "We can really be particular about how we select our woods," he says. "If a craftsman finds an interesting characteristic of the wood, he can change the design on the spot to take advantage of that particular characteristic."
There's no shortage of interesting characteristics when it comes to the woods Vanderburgh uses. Adhering to a customer's request for crotch mahogany, Vanderburgh eventually acquired enough of the rare wood to make a desktop humidor, which cost about $3,000 when it was finished. Sourced exclusively from the fork of a tree's trunk, "crotch mahogany has some interesting character and is very desirable," Vanderburgh explains, but he says that it's often sent right to veneer mills, which makes finding it in a solid state a difficult proposition.
Vanderburgh also has worked with petrified kauri wood, which is sourced from fallen logs that were preserved in swamps 50,000 years ago. "It's unlike anything you've ever seen," Vanderburgh says of the wood. "It shifts as you turn it in the sunlight. It's almost iridescent, like a glass of Cognac shining in the sun." That particular humidor cost $2,350, though Vanderburgh admits he gave the customer a great deal, partially because he was eager to work with the unusual wood. On average, a Vanderburgh humidor ranges in price from $1,500 to $3,500 and requires about two months to complete.
With a background and degree in industrial design, Vanderburgh believes that he sees things a little differently than most; and while the desktop and occasional cabinet humidors that he makes are rooted in traditional woodworking, Vanderburgh also makes all-aluminum travel humidors that are housed in a leather pouch and hold four cigars. Those travel humidors, Vanderburgh says, allow him to tap into that industrial-design skill set, which makes this venture feel similar to his previous enterprises.
But when analyzing his business and its operations, Vanderburgh says the bottom-line figures aren't as important to him as the work itself. "It developed out of a lifestyle in a sense—the enjoyment of cigars and noble products," he says of the business. "I'm more interested in doing something that I love to do and to make beautiful products that people can enjoy."
Shaun Tolson - https://robbreport.com/food-drink/spirits/smokers-saving-grace-224527/